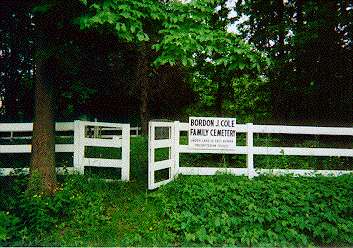 Bordon J. Cole Family Cemetery
Location :

Around 1400 North Davis Road, south of North Star Road,
Town of Elma, Erie County, New York
The cemetery is located on the west side of the road, surrounded by a white wooden fence.

Year Established : 1857

Burials : 18 tombstones, dated between 1857 - 1991.

Condition of cemetery :
This small shaded cemetery is very much in need of maintenance.
Dead trees and various ground covers run over the smaller stones
A large white painted sign is nailed to the fence.
Source of Information :

This information is from tombstone inscriptions, not cemetery records.

Caretakers : East Aurora Presbyterian Church

Address :

(716)

Contact Person :

Location of cemetery records

Known by other names :

History :
©1998 KMK all rights reserved
Source of Information :
Tombstone information complied by Leo J. & Katherine M. Kopp, on 14 June 1998.
Return to Bordon J. Cole Cemetery Listings